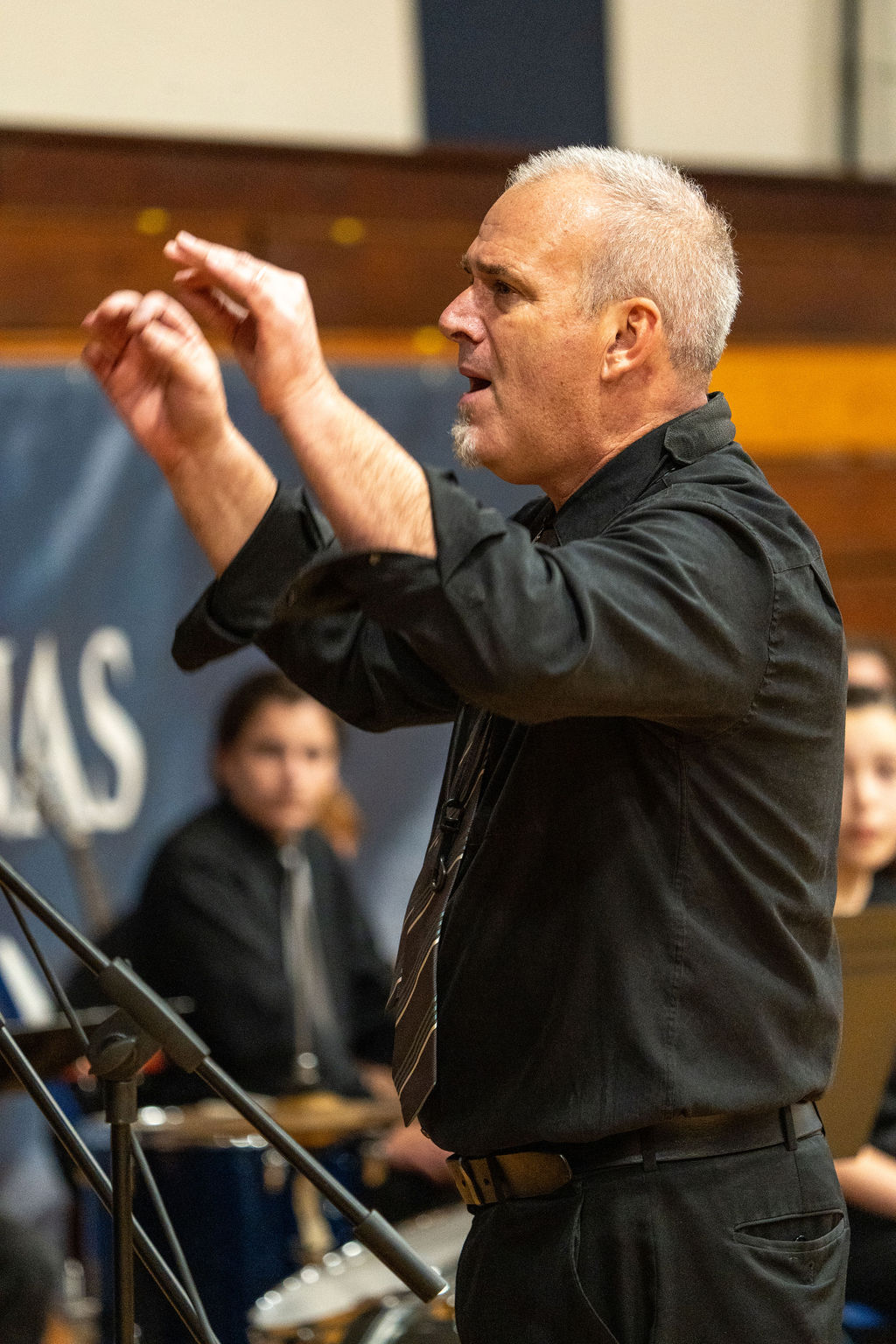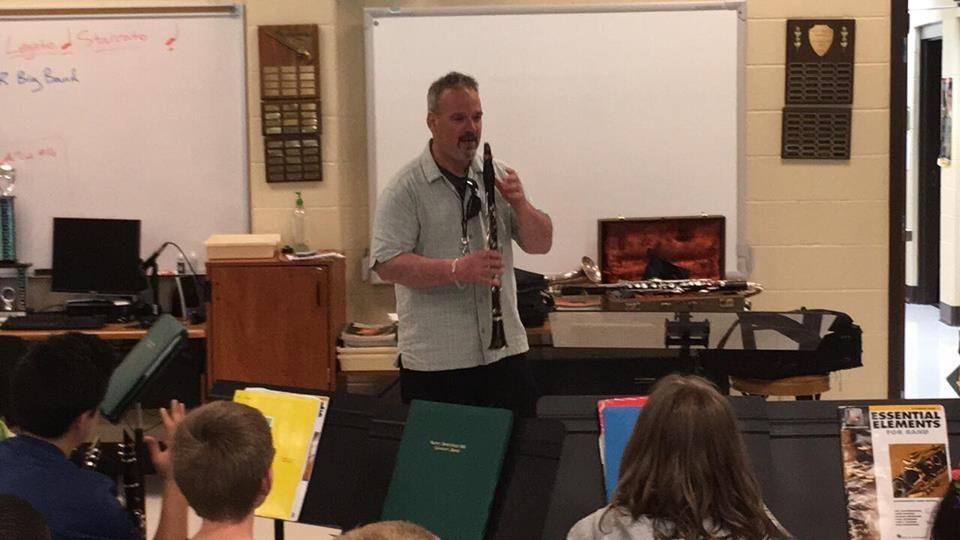 Conn- Selmer clinic with Ricks Musical Instruments
Private and group lessons in
Clarinet, Bass Clarinet and Saxophones
Classical studies, Jazz training, Clinics and Workshops! 
Now accepting students at all levels for Fall enrollment!
Beginner to Advanced
*Classical and Jazz Conservatory level training
*20 years of teaching experience
*Workshops and Clinics on improvisation
for all instruments.
*Out of the Boston area? We can meet on Zoom!
    I am a licensed K-12 Massachusetts music educator and currently serve as the director of music at Saint Thomas Aquinas High School in Dover, New Hampshire. I am also adjunct faculty professor of clarinet and saxophone at Middlesex Community College. I have a private lesson studio conveniently located at the Foodlink Building in Arlington, MA where I work with clarinet and saxophone students of all levels from beginner to advanced. I also teach beginner keyboard, flute, percussion, music theory, ear training and music creativity, improvisation, composition and songwriting. 
    I had a 20+ year relationship with the Powers Music School working with the young performing artists at the Music On the Hill Summer camp, where I served as jazz ensemble director, chamber music coach and private lesson instructor. I cover a lot of stylistic musical genres and I specialize in arranging new music for mixed ensembles and inspiring young artists to have fun!
Teaching Background:
 2022-present: Saint Thomas Aquinas High School, Dover, NH.
2020-present: Middlesex Community College, Bedford, MA.
2001-2022: Powers Music School, Music On the Hill: jazz ensemble director.
2021-2022: Arlington Public Schools, The Walker School.
2019-2021: The Boston Public Schools: The Sarah Greenwood
2018-2019: Heronfield Academy, director of Ensembles
2012-2018: Wheaton College, Norton, Massachusetts, professor of clarinet and saxophone. Spring 2013 Jazz band director.
2016-2017: Cushing Academy.
Fall 2016 Bard College guest clinician
2011-2013: Berklee College of Music, City Music, woodwind faculty.
2011-2018: Lexington Music School, private instructor in clarinet/ saxophone, 
2008-2012: Lynnfield Public Schools, private lesson instructor, Lynnfield, MA.
2001-2012: The Newton Public Schools, TWD Music in Sherborn, MA, Creavite Arts for Kids in Reading, MA.
2004-2005: Waldorf High School, chamber orchestra director, Belmont, MA.
1999-2001: Private lesson instructor at The Boston Conservatory special programs division, The Brookline Music School and the Pike School.
1997-1999: Lafayette High School, Band director and general music teacher, Brooklyn, New York.
1995-1997: Brooklyn College Conservatory,Graduate teaching assistant to Paul Shelden.
1990-1994: Private and group lessons in the Boston area and in the Norwood Public schools.

Master Classes and workshops:
2016: Bard College Masterclass/ workshop
2015: International Society for Improvised Music, CHATEAU D'OEX, SWITZERLAND.
2014: International Society for Improvised Music, The New School University.
2013: Comp 2 Improv, Improv 2 Comp, a lecture concert, Wheaton College.
2012-2014: Bay State Music Festivals, woodwind clinician.
2011: Wheaton College with the Meltdown Incentive and Bob Moses, Norton, MA.
2010: The Boston Free Jazz Association, Outpost 186, Cambridge, MA
VOD Fest at the Cambridge YMCA, Cambridge, MA
2001-2010: Masterclasses at the Powers Music School, Belmont, MA.
2008: Clarinet and woodwind Master classes at the Academy or Music Dance and Art, Plovdiv, Bulgaria.
2007: The International woodwind Festival at the Boston Conservatory, Boston, MA.
2004-2005: Improvisation and collaboration classes at Babson College, Wellesely, MA.
2001: Master classes at Brookline Music School, Brookline, MA.
    I was the music specialist at the Sarah Greenwood School, the director of ensembles at Heronfield Academy and from 2012-2018, I was adjunct professor of clarinet and saxophone at 
Wheaton College
 in Norton, MA. I have also taught at Cushing Academy, the Lexington Music School, The Concord Carlisle Public Schools, The Boston Conservatory Preparatory Division, Berklee City Music, The Newton Public Schools and the Community Music Center of Boston among many other places. I also proudly served as the band director and general music teaching at Lafayette High School in Bensonhurst, Brooklyn, NY in the late 90s. 
    25+ years of experience as an ensemble director, private lesson teacher, clinician and teach a variety of styles from classical to jazz, world music and contemporary improvisation. I am a
Conn- Selme
r Center Stage endorsing artist and clinician and can provide your school with a motivating workshop or clinic in clarinet performance and improvisation.
    Lessons are open to students at all levels from absolute beginner to advanced. Beginner students will learn instrument assembly and play notes in their first lesson. Advanced students will expand their technique with scales and arpeggios, sound production and explore classical repertoire by CM Von Weber, JS Bach, Mozart, Stamitz, Brahms, Stravinski and others. 
If you have never improvised before, you will do so in 15 minutes. 
Jazz improvisation sessions and workshops cover the blues and the repertoire of the great American Songbook, melodic phrasing, form, expanding ideas for soloing over chord changes. We look at chord extensions, modes, chromaticism, ii-v's and approach tones. We learn to remove the divisions imposed on stylist genres and expand our creativity, lyricism and virtuosity. 
Real world scenario:
You are playing modern music and the composer writes sections where you are asked to improvise using motives from pre-composed sections or better yet chord changes. Knowing what to play and expressing your ideas is where our training comes in. I have learned many things from my teachers, professional colleagues and students over the years and am quick to help you find control and satisfaction in your playing.
Music is a creative act and one of the arts that cannot be dismissed. The sound waves created by these simple vibrations have the capacity to adjust human discourse; to raise a crowd to their feet or perhaps sooth and heal.  
I have a special relationship with the company Conn-Selmer and can bring high energy clinics and workshops to your class room at a discount. Click HERE to get in touch with me about my discount rates thanks to Conn-Selmer and their commitment to education.
   With over 25 years of private lesson teaching and ensemble direction, I know what most students need in order to optimize their performance. We break the music down and work on breath support, clamping issues and the scales and arpeggios behind the music. We iron the music out! Together we build confidence and strengthen technique. Now thanks to Conn-Selmer and their support, workshops and clinics are more accessible for a band program with a small budget. Contact me now for my clinic outline, times and rates. 
 
Music is of course much deeper than technical proficiency, it's a real time relationship that we have with the world. In its best form, it can channel our life force no matter how complicated or how simple.  We strive to overcome the technical challenges of a piece and take its powerful spiritual message to audiences. It is through working together as a team that students get to see how the puzzle pieces fit together. As a team they can make great music happen, enriching their lives and the audiences they play for. In fact it could be argued that the student music ensemble is the very best example of class room participation and real time, Old School technology.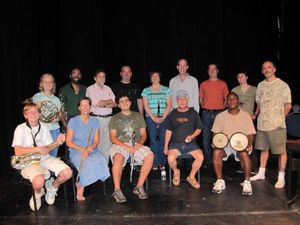 Vortex Festival for New and Improvised Music
Improvisation workshops help the non-improviser and the improviser alike get away from the written page, starting in a group environment, guided completely by the idea that listening is a creative act. Many techniques are drawn from my method, including sound sculpting, playing over chord changes, analysis of form and harmonic structures. No one person stand-outs, just guided acts of musical dialogue. The results are astonishing!
       Many of my advanced students are active in collegiate ensembles and my high school students consistently place at the top of competitive District and All State auditions. Beginning students will learn to assemble and play their instrument in the first lesson and learn rudiments working with my carefully guided approach. College and advanced students will further develop technique and tone production in all registers, dynamic control, articulation and interpretation of great classical and contemporary repertoire. Musicianship and artistry is not just born, it takes time to foster and grow.
    Jazz training focuses on chordal knowledge, arpeggiation, approach tone concepts, learning to read over chord changes and developing repertoire from the great American songbook. Workshops in contemporary improvisation help to open your mind to the boundless energy of music and relay the significance of listening, reaction and inter-reaction in a post modern 21st century musical world. 
    Comp 2 Improv Improv To Comp presents an innovative and eccelctic mix of classical and jazz styles, championing works of JS Bach, Igor Stravinski, George Gershwin, Luciano Berio and John Coltrane to name a few. 'How composition informs improvisation, how improvisation informs composition.' Instead of separating the worlds of classical music and jazz, we present a cross genre mix that is both beautiful and thought provoking. What happens when you mix the JS Bach Chromatic Fantasy transcribed for clarinet by Stanley Hasty and collaborate with an improvising jazz guitarist? Hear part of the lecture concert on my Soundcloud page:  
https://soundcloud.com/toddbru
The Conservatory Approach:
Tone production and embouchure development: strengthen and improve your sound and flexibility with focused air support. Working with a good teacher is key to developing good habits with your embouchure. You want to be comfortable when you play. If you use a single lipped embouchure (like I do), consider relaxing the jaw pressure and focus with the sides of your mouth while keeping your chin pointed and lip pulled back slightly in a semi smile. It's not that complicated, but very difficult to remind yourself.
Learn master classical repertoire with an approach that combines the French, Italian and American Schools. Mozart, Debussey, Poulenc, Brahms, Carter, Messaien....and on the other side of the musical coin, Miles Davis, John Coltrane, Benny Goodman, Charlie Christian. The great jazz improvisers were influenced by the classical masters and the composers of the 20th century were influenced by the the great jazz improvisers. Listen to my recent recording of Mel Powell's pan tonal work 'Improvisation'. Here is an example of a jazz piano legend composing in a most intriguing contemporary way.  
Theory and ear training to improve your sight reading, understanding of chord structures, extensions, tuning and form. What is dominant function, chromaticism, modality, pan tonality? In lessons and workshops, we train our ear to help us find the tones and practice technical exercises that explore melodic sequences over chord changes. How can we learn as classical musicians or improvisers to use our ears and our understanding of theory to strengthen our commitment to a performance?
Nuance and musical growth: dynamics, subtone and control in all registers. The dreaded squeak is a harmonic extension of a fundamental pitch and when you relax and learn to 'voice', the richness of your tone and the expression you seek will come through!
Extended techniques: multiphonics, growls, slides, clari-digeridoo sounds! Well what's the point when you're playing Brahms...okay it's not for every piece, but the clarinet is capable of so many amazing and unusual sounds, add to your expressive pallette! 
Learn to command the music in ways you want and in the ways you discover, by revealing its message. Take your insecurity out of the picture and learn a kind of sound harmony that is as much a meditation and spiritual exercise as climbing a mountain. Practicing a wind instrument is one of the most enriching life experiences out there.
For Booking and registration information,
fill in the form below.
Reserve your time now!
"Tremendous virtuosity and heart" the Boston Globe
call now at 617 821-0373
or fill in the form below: